Regia: Clark Gregg
Cu: Sam Rockwell, Angelica Huston, Kelly Macdonald
Rating: 2/5
Să faci un synopsis acestui "Choke" este destul de greu. Pe scurt, Sam Rockwell este Victor Mancini, un tânăr de originie italiană (sau poate nu...), care lucrează ca ghid la un muzeu în aer liber care recrează America colonială (fiind dotat cu costumul de rigoare). De asemenea, este dependent de sex, prietenul său cel mai bun este un masturbator cronic, amândoi participă la întruniri cu alte persoane având vicii asemănătoare (bad idea!), iar în timpul liber, Victor își vizitează mama afectată de demență la azil, încercând să afle identitatea tatălui său. Lucrurile se complică puțin când începe să aibă anumite sentimente pentru doctorița mamei sale (Kelly Macdonald), fapt care se manifestă prin impotență tranzitorie. A, da, și pentru a face rost de ceva bănuți în plus, Victor se prefaceadesea că se îneacă în restaurante, apelând la bunăvoința străinilor... bla-bla-bla... de unde vineși titlul.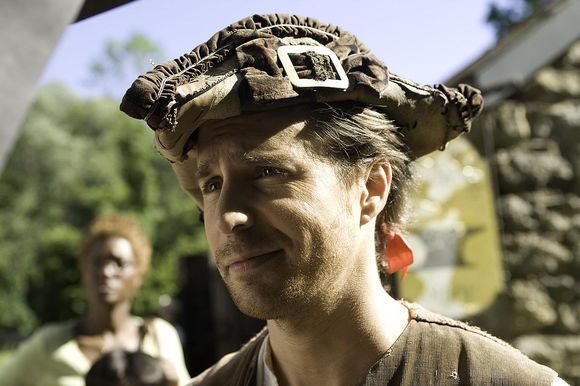 Bazat pe un roman de Chuck Palahniuk, "Choke" suferă în primul rând de comparația cu "Fight Club". Dar și fără această comparație, "Choke" tot ar ieși în minus. Scenariul este un haos total. Clark Glegg (care nu a regizat nimic altceva și nu a mai co-semnat decât scenariul la "What Lies Beneath", deși este un actor care primește de lucru) nu este deloc potrivit pentru a pune această poveste pe ecran. Deși nu am citit cartea, am impresia că este la fel de greu de adaptat precum "Fight Club" și probabil doar un adevărat talent ar putea scoate un film bun din el. În schimb, regia lui Glegg este absolut banală, încât cu greu mi-aș putea închipui un film mai plictisitor bazat pe un marial atât de provocator. Până și micile twist-uri de final sunt atât de caraghios și amatoricesc tratate încât nu pot fi luate în serios.

Sam Rockwell este un actor excepțional (merită amintit aici măcar rolul principal din "Confessionf of a Dangerous Mind", rolurile principale din "Moon" sau zecile de roluri secundare care fac deliciul unor filme precum "Matchstick Men", "The Green Mile", "The Hitchhiker's Guide to the Galaxy" etc.). Însă de data aceasta, și el se complace într-o interpretare ștearsă, absolut de rutină. Același lucru este valabil și în cazul lui Kelly Macdonald. Angelica Huston în rolul mamei este singurul deliciu al acestui film, mai ales în flachback-urile unde vedem copilăria traumatizantă a lui Victor, în timp ce mama sa foarte dependentă de substanțe și certată cu legea îl poartă pe drumuri, însă nu uită să-i dea cele mai nefolositoare și mai bizare învățăminte posibile.